Currently, I have a severe case of garden envy. I don't know about you, but I seem to be blessed with a lot of friends who have beautiful and whimsical gardens.
This means that I either need to get new friends or vamp up my outdoor space. Let's try option B first.
A Garden is a Blessing
Now I do realise that I am lucky to have a garden at all. Many people were stuck at home for months throughout the lockdowns, without a blade of grass to call their own.
Having your own garden, however small, really is a blessing. And I have appreciated it massively these last few years.
Having a Garden as a Place to Sit Out
I have a garden and I do some gardening. However, I rarely sit out in it. Mainly because, as I live in the UK, it is normally raining. Or constantly raining.
We did, surprisingly, have some nice weather in the last few days (but constant rain ever since!) and I found myself sitting out in my outdoor space quite a bit.
And I really started to appreciate the garden as more than just a place to throw the ball for Poppy.
Weathering the British Weather
Us Brits just love the ever-changing British weather. Sadly, it is one of the most frustrating things about gardening in the UK. Especially if, like me, you can only really garden at the weekend. We all know that it always rains at weekends. One day you're basking in a sun-drenched garden, the next you're witnessing a downpour that would make Noah nervous. Despite this, it's crucial to remember that rain helps your garden grow, while a well-timed cuppa can help you weather the storm.
The Wonderful World of Water Features
A small water feature can add a touch of whimsy and magic to your garden. From birdbaths to trickling fountains, water can create a sense of calm and serenity, while also attracting a variety of birds and wildlife to your space. I really wanted a fancy water feature but was not up to doing all the electrical stuff.
So I have just bought a small bowl really with some plants and a solar fountain and it is absolutely lovely. And the great thing is that the birds absolutely love it too.
I have 2 of them now so the first one I bought the full kit.
Then because I already had a pot I wanted to use, I just bought the plants. These have been great and are actually better than the plants in the full kit. The
I then bought 2 simple small solar power fountains.
The Art of Vertical Gardening
If your garden is on the smaller side, consider vertical gardening. This also works really well if you have a larger garden but want to make a space seem cosy. Like your patio. Climbing plants, hanging baskets, or shelving units can transform your garden and make the most of your space. Just imagine a cascade of vibrant blooms trickling down your wall, providing a perfect backdrop for your evening tea. I always have sweet peas near my patio as the smell is gorgeous. This year I am also trying 'Spanish Flag' which has really small flowers but looks really pretty. Some veggies work well as climbers too so you don't only have to use flowers.
From Eyesore to Eye-catching
That old garden shed or rustic wall may seem like an eyesore, but it doesn't have to be. With just a lick of paint and some TLC, your once-drab wall can become a garden feature. It can often be much easier to transform something than it is to remove it. I have purposely put some old logs in my border to make it a bit more natural and rustic. The aim is that the plants will climb over them so that it looks even more natural.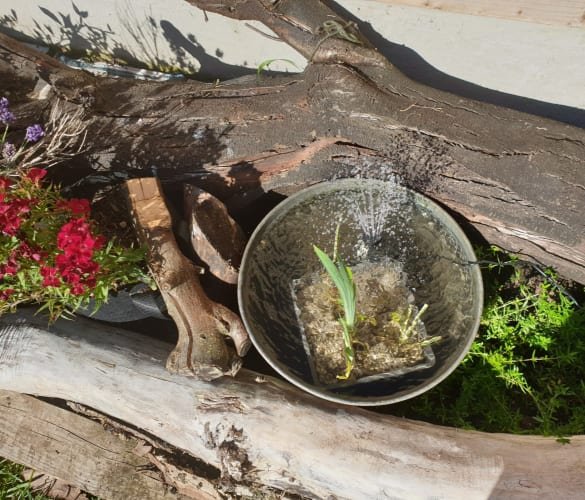 Embracing Your Wild Side
Many people love a perfect lawn. My other half included. He certainly did not embrace 'no mow May'! But I love a garden with a touch of wilderness. Any wild corner can be a haven for wildlife and also add charm to your space. I have a small triangle of lawn where I am starting to grow a wildflower meadow. OK, it is the tiniest meadow ever, but I'm hoping the wildlife will love it. At the minute it just looks like a badly mown lawn, but who knows it may become a thing of beauty.
The Power of Aromatic Plants
Why not add another sensory experience to your outdoor space with aromatic plants? From lavender to mint, fragrant plants can transform your garden into an olfactory wonderland, offering new depths of enjoyment. I have added thyme and rosemary next to my logs so they can rewild the logs whilst adding scents and flowers. They both have lovely flowers in spring so it's great to plant herbs to be plants rather than being herbs.
Creating Your Own Festival Vibe
I normally go to a festival in May and many of my friends decided to recreate the festival in their own garden. This is when I came down with a severe case of garden envy. Who says you can't recreate that festival vibe at home? String some fairy lights, throw down some cushions, put on your favourite tunes and voilà – your personal Glastonbury, without the muddy wellies. Plus, the after-party cleanup is so much easier. Did you see the pictures of the aftermath this year? Fairly shocking.
So many people have such magical gardens with a real indoor/outdoor vibe. And I decided that was what I need in my life.
Your Garden as an Extra Room
So I now have the task of transforming my traditional lawn and path garden, into an extra outside room.
Something like this, which I love.
And I really love the fact that this could be inside or outside. With the addition of the lights, you know this is going to be somewhere you will love to sit out during a summer's evening.
The wood and wicker give it a neutral feel and there is just enough of a splash of colour without detracting from the garden and the plants.
I found these lights which will look great in the garden. Plus they are solar powered so that is a bonus.
Now I do think I would stick with the idea of the wooden steamer chairs. They do give a more tropical vibe I think.
And as my garden isn't as nice (yet!) I think I would need to add a bit of interest with the cushion covers.
This colour would brighten up the area around the seating area.
And then to finish it off with this lovely blue lantern.
I do love this look and it really gives me something to aim for. I am going to crush my feelings of garden envy and start creating my own lovely extra room outside. Although I may need a bigger umbrella.
Embrace the Garden Envy
Feeling a twinge of garden envy? Don't see it as a bad thing. Let's call it inspiration. Use it as your motivation to create the garden you've always dreamed of. So, when you wander down the road and look at other people's perfect gardens, don't be put off. Think about your own garden, jot down some ideas and get a bit excited about your future garden.
Remember, Your Garden is Your Story
Everyone's garden is unique. It should be a personal story told through plants, decorations, and design. The plant your mother gave you. The roses that your Grandma used to love. Your boyfriend's favourite herb that go nicely in a G&T. Your garden reflects your journey, your personality, and your dreams. So, don't worry about comparing it to others. Enjoy making your garden a place for you and about you. Somewhere that brings you joy, comfort, and a sense of pride.